Kenmerken
Nieuwste versie (2023.11)
100% convectieverhitting
Kwartsglas ovenkamer (0,2 tot 0,3 g)
Twee verhittingsstanden: sessie en on-demand
Warmt op in 20 seconden
Groot temperatuurbereik (100°C tot 220°C)
Meerkleurige OLED-display
Solide behuizing van geanodiseerd aluminium
Verwisselbare 3200 mAh 18650 batterij
Voor wie is de XLux Roffu?
Dankzij de gespecialiseerde convectieverhitting van de XLux Roffu proef je de echte nuances in de smaak van je kruiden. De convectieverhitting verhit kruiden heel geleidelijk met hete lucht, zodat zuiverheid en smaak maximaal tot hun recht komen.
Met zijn sessie- en on-demand modus kan de Roffu maatwerk leveren voor elke damper. De sessie modus verhit je kruiden in intervallen van 3 tot 6 minuten, voor een heerlijk ontspannen sessie. De on-demand modus biedt je de mogelijkheid om snel 1-2 trekjes te nemen, voor als haast geboden is. Beide standen bereiken de gewenste temperatuur in ongeveer 20 seconden.
De Roffu is speciaal ontwopen voor het gebruik van droge kruiden. De smaakbeleving staat centraal bij deze vaporizer, maar dit apparaat valt ook op door zijn draagbaarheid en betaalbaarheid. De perfecte combi tussen stevigheid en lichtgewicht, met een gewicht van slechts 166 gram. De Roffu is de voordelige optie voor elke gebruiker die op zoek is naar een draagbare vaporizer met 100% nauwkeurige convectieverhitting.
Focus op smaak
Geniet van pure, smaakvolle damp dankzij de ovenkamer van kwartsglas in de Roffu. Er past met gemak 0,2 tot 0,3 gram kruiden in deze kamer, zodat je lekker lang kunt dampen zonder dat je constant bij moet vullen.
De Roffu werkt op basis van convectieverhitting, een technologie die je kruiden verhit door middel van een hete luchtstroom, in plaats van direct contact. Het resultaat is een zuivere, pure damp die de natuurlijke smaken van je kruiden optimaal tot hun recht laat komen.
Met een breed temperatuurbereik van 100°C tot 220°C kun je altijd de ideale temperatuur instellen om het laatste beetje werkzame stof uit je kruiden te halen.
De combinatie van de ruime kwartskamer, nauwkeurige convectieverhitting en aanpasbare temperatuurregeling betekent dat je altijd en overal maximaal van je kruiden kunt genieten.
Sessie en on-demand modus
De XLux Roffu biedt veel flexibiliteit dankzij twee verschillende verhittingsstanden:
De sessie modus is bedoeld om ontspannen te genieten - de ovenkamer wordt continu verhit om 3 tot 6 minuten onafgebroken te kunnen dampen.
De on-demand modus is bedoeld voor snel en discreet dampen - de Roffu wordt onmiddellijk warm zodra je op de knop drukt, zodat je even snel kunt dampen zonder kruiden te verspillen.
Proef het verschil
Geniet optimaal van de pure smaak van je kruiden met het verlengde, magnetisch mondstuk van zirkoon in de XLux Roffu.
Het mondstuk garandeert een pure smaak en het innovatieve luchttraject zorgt voor een constant koele damp.
Comfortabel in de hand en gebruiksvriendelijk
Met een breedte van slechts 2,5 cm ligt de Roffu lekker in de hand en is hij gemakkelijk mee te nemen.
Het meerkleurige 0,96 inch OLED display geeft real-time feedback en in combinatie met de haptische feedback en intuïtieve bediening is de temperatuur snel en eenvoudig aan te passen.
Of je nu een doorgewinterde damper bent of net begint, de Roffu is heel eenvoudig in gebruik. Bovendien is er ook een "Puff Data" menukeuze, waar je statistieken van je damproutines kunt bekijken.
Optimale prestaties
De XLux Roffu heeft een krachtige 3200 mAh 18650 batterij voor een langere gebruiksduur tussen twee oplaadbeurten. Hij laadt gemakkelijk op via USB-C aansluiting.
We raden je aan een extra Molicel M35A 3500 mAh Batterij te kopen, in combinatie met de Xtar X2 Batterijoplader, om eindeloos te kunnen genieten van je dampsessies.
Hoogwaardige materialen
Met zijn geanodiseerde aluminium constructie van 166 g is de Roffu even elegant als duurzaam.
Het design is afgestemd op intensief dagelijks gebruik, dus je koopt een apparaat dat niet alleen licht en draagbaar is, maar ook robuust en duurzaam.
Hoe gebruik je de XLux Roffu
Dit zijn 10 stappen om optimaal te genieten met de XLux Roffu.
Verwijder het mondstuk.
Stop fijngemalen kruiden in de ovenkamer.
Doe het mondstuk er weer op.
Klik vijf keer op de aan/uit-knop om het apparaat aan te zetten.
Kies de gewenste temperatuur.
Laat de Roffu de ingestelde temperatuur bereiken (ongeveer 20 seconden).
Inhaleer langzaam en rustig.
Geniet van de damp!
Zet de Roffu weer uit door vijf keer op de knop te drukken.
Gebruik het ingebouwde schrapertje om de ovenkamer gemakkelijk schoon te maken en te onderhouden.
Om de on-demand stand te activeren, houd je gewoon tegelijkertijd de omhoog- en omlaag-knop twee seconden ingedrukt. Zodra de on-demand stand is geactiveerd, zal de Roffu alleen opwarmen wanneer je op de aan/uit-knop drukt.
Veilig en betrouwbaar
Bij de XLux Roffu staat veiligheid altijd bovenaan.
De trilfunctie waarschuwt je bij veranderingen, de ingebouwde sessie timer zorgt ervoor dat het apparaat na een bepaalde tijd automatisch uitschakelt, dat bespaart energie en is wel zo veilig.
Aanbevolen accessoires
Doseercapsules: Deze capsules maken het vapen met de XLux Roffu nog eenvoudiger. Vul ze van tevoren voor snelle sessies. Bovendien houden ze je oven schoner. Minder direct contact met de kruiden betekent minder residu en minder schoonmaakwerk.
Molicel M35A - 3500 mAh 18650 Batterij: Met deze krachtige batterij (maar liefst 300 mAh meer dan de originele Roffu batterij) kun je langer vapen tussen twee oplaadbeurten.
Bovendien heb je het bijkomende voordeel dat je de batterij gemakkelijk kunt verwisselen, zodat je nooit zonder stroom komt te zitten, zelfs niet tijdens extra lange sessies of onderweg.
Xtar X2 Batterijoplader: Deze externe oplader kan tot vier batterijen tegelijk opladen, zodat je altijd een verse set bij de hand hebt. Een externe lader is een aanrader omdat het de levensduur van je batterijen ten goede komt.
Metalen Ovenkamer: Profiteer van Roffu's uitneembare ovenkamer en wissel naar de metalen kamer voor snellere verwarming en dichtere damp.
Waterpijp Adapter: Geniet nog meer van je damp door je Roffu aan te sluiten op een waterpijp. Het helpt de damp af te koelen, en maakt elke hijs nog zachter en aangenamer.
Siliconen Beschermhoes: Bescherm je Roffu met deze perfect passende hoes. Hij beschermt je Roffu niet alleen tegen vallen, maar geeft je apparaat ook een stijlvolle afwerking.
De XLux Roffu schoonmaken
Als de XLux Roffu aan een grondige schoonmaakbeurt toe is, volg dan deze simpele stappen:
Borstel de restjes uit de ovenkamer, laat de ovenkamer 15 minuten weken in alcohol en droog hem af.
Veeg de binnenkant van het mondstuk schoon met een vochtig doekje.
Was de siliconen voering van het mondstuk met water en zeep. Week de keramische onderdelen 15 minuten in alcohol en veeg ze af met een tissue.
Laat het apparaat na het reinigen 2 minuten op maximumtemperatuur draaien om eventuele reststoffen volledig te laten verdampen.
Garantie
Alle XLux Roffu by XVape vaporizers die verkocht worden via MagicVaporizers, een geautoriseerde dealer van XVape, zijn 100% authentiek en hebben 1 jaar garantie op het apparaat en 6 maanden garantie op de batterij.
Gebruikershandleiding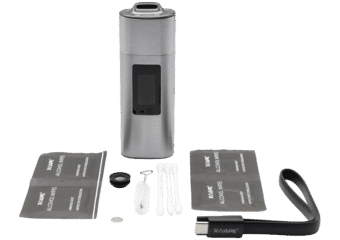 Inhoud
XLux Roffu vaporizer
Oplaadkabel
Schoonmaakborsteltje
Gaasjes (2)
O-ringen (2)
Wattenstaafjes (3)
Alcoholdoekjes (2)
Gebruiksaanwijzing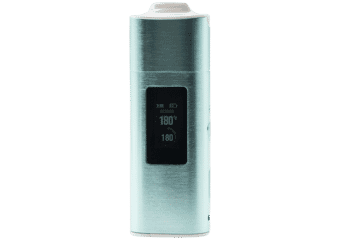 Specificaties
Meer informatie

| | |
| --- | --- |
| Formaat: | 4.0 × 2.5 × 11.5 cm |
| Gewicht: | 166 g |
| Hittemethode: | Convectie |
| Opwarmtijd: | 20 seconden |
| Energiebron: | Batterij (3200 mAh) |
| Temperatuur: | 100°C tot 220°C |
| Fabrikant: | XMax / XVape |
| Garantie: | 1 jaar |
| Land van productie: | China |
XMax Starry V4

Snelle opwarmtijd (30 seconden)
Verstelbare luchtstroom
Nauwkeurige temperatuurregeling (100°C tot 240°C)

XMax V3 Pro

Opwarming in 15 seconden
100% convectie
100°C tot 220°C temperatuurbereik

XVape Fog Pro

Verhit tot 180°C in slechts 15 seconden
Pure convectie verhitting
Verwisselbare 3200 mAh batterij
Schrijf je eigen review over XLux Roffu van XVape