Kenmerken
Nieuwste versie(2023.11)
OLED display
Pure convectieverhitting (in 15 seconden tot 180°C)
Haptische feedback
Regelbaar tot op één graad nauwkeurig (100°C tot 220°C)
Geïntegreerd roerstaafje
Inclusief wax cup voor concentraat
Krachtige, verwisselbare batterij (3200 mAh)
USB-C laden
Voor wie is de XVape Fog Pro?
De XVape Fog Pro is de verbeterde versie van de XVape Fog, met grotere batterij, snellere opwarmtijd, meer aanpasbaarheid, en nog veel meer extra opties. Hij is perfect voor het verdampen van van zowel kruiden als concentraten (met het bijgeleverde wax cupje) dankzij de geoptimaliseerde verhittingskamer die zuivere en smaakvolle damp produceert bij elke temperatuur tussen 100°C tot 220°C.
Als je een betrouwbare en gebruiksvriendelijke convectie vaporizer zoekt die je gemakkelijk overal mee naartoe kunt nemen, dan is de XVape Fog Pro de perfecte keuze.
Compact en duurzaam
De XVape Fog Pro heeft een compact formaat en een duurzame behuizing van geanodiseerd aluminium, waardoor hij er niet alleen fantastisch uitziet, maar ook beter beschermd is tegen krassen. Hoewel hij niet groot is, maakt zijn gewicht hem robuust genoeg om op zichzelf te staan en toch comfortabel om in de hand te houden.
De magnetische bovenkant is gemakkelijk te verwijderen zodat je toegang hebt tot de roestvrijstalen verhittingskamer eronder en om er zeker van te zijn dat je alleen de meest smaakvolle damp krijgt, heeft hij een afneembaar mondstuk van zirkonium.
Als je je kruiden wilt roeren of als je ze per ongeluk iets te hard hebt aangestampt, kun je het geïntegreerde roerstaafje gebruiken om ze wat losser te maken en de luchtstroom in de verhittingskamer te verbeteren.
Allernieuwste convectie verhittingstechnologie
Om al het goede uit je kruiden te halen en een optimale smaak te behouden, is de XVape Fog Pro uitgerust met de nieuwste convectie verhittingstechnologie. Dit betekent dat de verwarmde lucht gelijkmatig door de kruiden of concentraten in de kamer wordt geleid, voordat de damp door het geïsoleerde luchtkanaal naar het mondstuk wordt geleid.
Deze nieuwe verhittingstechnologie, in combinatie met de nu nog krachtigere batterij, zorgt ervoor dat je in minder dan 20 seconden kunt genieten van pure en smaakvolle damp!
Meer extra en nog makkelijker in gebruik
De XVape Fog Pro heeft verschillende verbeteringen die hem nog makkelijker in gebruik maken ten opzichte van de vorige versie, en je kunt nu kiezen uit elke gewenste temperatuur tussen 100°C tot 220°C, met een nauwkeurigheid van één graad. Je kunt nu ook de sessie-timer kiezen op 5 minuten of 10 minuten, afhankelijk van hoe lang je je sessie wilt laten duren.
Op het nieuwe OLED display zie je het batterijniveau, de ingestelde temperatuur, de huidige temperatuur en, de sessie-timer. Om je te helpen de juiste temperatuur te kiezen en de sessie-timer in te stellen, heeft de XVape Fog Pro twee extra knoppen, zodat het veranderen van de instellingen snel en gemakkelijk gaat.
Nieuw voor deze versie is ook de haptische feedback die het apparaat laat trillen als de gekozen temperatuur bereikt is en als je hem aan en uit zet. Als je graag discreet wilt dampen, kun je het apparaat in je zak hebben en wachten tot hij opgewarmd is en begint te trillen, zodat je snel een hijs kunt nemen.
Verwijderbare batterij met USB-C laden
De XVape Fog Pro is voorzien van een verwisselbare en oplaadbare 3200 mAh batterij. Er is de mogelijkheid om hem uit te nemen en op te laden met elke compatibele 18650 batterijlader, of hem op te laden met de batterij erin via de USB-C oplaadpoort en bijgeleverde USB kabel.
Als je van plan bent je Fog Pro veel te gebruiken, raden we aan gelijk één of twee extra batterijen te nemen, zodat je een lege batterij snel kunt vervangen door een nieuwe!
Geschikt voor kruiden en concentraat
Met de bijgeleverde wax cup kun je de XVape Fog Pro niet alleen met kruiden gebruiken, maar ook met concentraat. Het enige wat je hoeft te doen is de wax cup in de verhittingskamer plaatsen en je kunt concentraat dampen! Bedenk wel dat de max. temperatuur van 220°C betekent dat niet alle concentraten optimaal zijn om met de XVape Fog Pro te nuttigen.
Hoe gebruik je de XVape Fog Pro?
Verwijder het mondstuk om toegang te krijgen tot de verhittingskamer.
Vul de kamer met kruiden (of gebruik het wax cupje voor concentraat).
Bevestig het mondstuk.
Klik driemaal op de aan/uit knop om het opwarmen te starten.
Wacht tot het apparaat trilt om aan te geven dat de ingestelde temperatuur is bereikt (10 tot 20 seconden*).
Geniet van de pure en smaakvolle damp!
* Voor een optimale dampkwaliteit raden we aan 20 seconden te wachten nadat de gewenste temperatuur bereikt is.
XVape Fog vs. XVape Fog Pro
Dit zijn belangrijkste verbeteringen van de XVape Fog Pro ten opzichte van de XVape Fog:
600 mAh sterkere batterij (3200 mAh)
OLED display in plaats van LED lampjes
Temperatuur tot op één graad nauwkeurig
Instelbare sessie-timer
Twee extra knoppen voor meer gebruiksgemak
Snellere opwarmtijd (15 seconden)
Groter mondstuk voor betere luchtstroom
Haptische feedback
Opladen met USB-C
Garantie
Alle XVape Fog Pro vaporizers die verkocht worden door MagicVaporizers, een geautoriseerde dealer van XVape, zijn volledig 100% origineel en worden geleverd met 1 jaar garantie op het apparaat en 6 maanden garantie op de batterij.
Gebruikershandleiding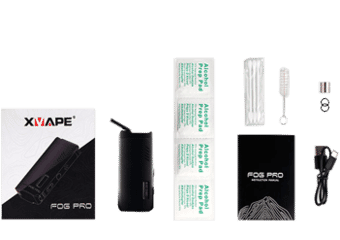 Inhoud
XVape Fog Pro vaporizer
USB-C kabel
Wax cupje
Reinigingsborsteltje
O-ringen (2)
Wattenstaafjes (3)
Alcoholdoekjes (4)
Gebruiksaanwijzing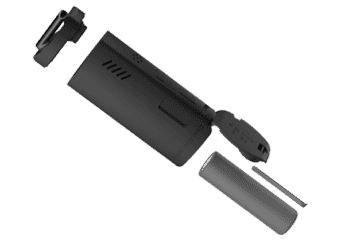 Specificaties
Meer informatie

| | |
| --- | --- |
| Formaat: | 4.4 × 2.6 × 10.0 cm |
| Gewicht: | 159 g |
| Hittemethode: | Convectie |
| Opwarmtijd: | 15 seconden |
| Energiebron: | Batterij (3200 mAh) |
| Temperatuur: | 100°C tot 220°C |
| Fabrikant: | XMax / XVape |
| Garantie: | 1 jaar |
| Land van productie: | China |
XMax Starry V4

Snelle opwarmtijd (30 seconden)
Verstelbare luchtstroom
Nauwkeurige temperatuurregeling (100°C tot 240°C)

XMax V3 Pro

Opwarming in 15 seconden
100% convectie
100°C tot 220°C temperatuurbereik
Schrijf je eigen review over XVape Fog Pro