Kenmerken
Nieuwste uitvoering! (2023.11)
Digitale controle over de temperatuur
Makkelijk te gebruiken
Geschikt voor kruiden, wax en olie
Snelle opwarmtijd (30 seconden)
Indrukwekkende batterijduur
Klein en discreet ontwerp
Voor Wie is de Flowermate V5.0S Pro?
De Flowermate V5.0S Pro is de perfecte keuze voor mensen die op zoek zijn naar een discrete draagbare vaporizer die lang mee gaat. Het apparaat doet qua vorm wat denken aan een smartphone en past perfect in de palm van je hand. Gecombineerd met het verwijderbare mondstuk zal deze vape erg makkelijk zijn om mee te nemen en in je (broek)zak of tas te bewaren. Dankzij de hoge capaciteit van de batterij en de volledige controle over de temperatuur zal je genieten van een langdurige en plezierige ervaring, elke keer opnieuw.
3 in 1
Anders dan vele andere draagbare vapes is de Flowermate V5.0S Pro zeer veelzijdig en geeft het je de mogelijkheid om moeiteloos vrijwel alle materialen te verdampen, van kruiden tot wax en olie. Er wordt een capsule voor kruiden en één voor concentraten meegeleverd, waardoor je volledige controle zal hebben over de materialen die je wil verdampen, terwijl de vape zelf netjes schoon zal blijven.
Batterij Gaat Lang Mee 
Dankzij een paar ingebouwde 2600 mAh batterijen levert de Flowermate V5.0S Pro een nette 2,5 tot 3 uur constante dampproductie met één volledig opgeladen batterij, waardoor je langere sessies kunt houden zonder dat je hoeft te wachten op het herladen. Deze vape is een uitmuntende keuze wanneer je blijvende kracht van de batterij zoekt voor de best mogelijke prijs.
Makkelijk te Gebruiken
De Flowermate V5.0S Pro is specifiek ontworpen met gebruiksgemak als uitgangspunt, waardoor het een goede keuze is voor beginners of mensen die niet zoveel hebben met ingewikkelde besturing. De handige plus & minus knoppen geven de gebruiker volledige controle over de temperatuur en het handige OLED scherm zal de temperatuur en de status van de batterij constant exact weergeven. Hiervoor hoef je geen ingewikkelde dingen te leren.
Topkwaliteit Damp
Omdat de Flowermate V5.0S Pro is voorzien van een volledig geisoleerd luchtpad is alle geproduceerde damp puur en smaakvol – je zal gegarandeerd van dichte en geweldig smakende damp kunnen genieten! Alle damp die wordt geproduceerd zal alle elektronische onderdelen voorbij gaan, waardoor de damp geen smaakproblemen of impuriteiten zal hebben. Ook zal een metalen smaak niet aanwezig zijn.
Snelle Opwarmtijd
De V5.0S Pro wordt gezien als de snelst opwarmende Flowermate vape ooit. Het apparaat kan de maximale temperatuur behalen in slechts 30 seconden. Selecteer elke temperatuur die je maar wil van 40 tot 230°C, afhankelijk van je persoonlijke smaakvoorkeuren. Onafhankelijk van de temperatuur die je zal kiezen zal de Flowermate V5.0S Pro steeds opnieuw de snelle 30 seconden opwarmtijd behouden, waardoor je nooit lang hoeft te wachten voordat het apparaat warm is en kan beginnen met het produceren van hoge kwaliteit damp.
Garantie
Alle Flowermate producten verkocht door MagicVaporizers worden geleverd met een 2-jarige garantie (6 maanden voor batterijen), beperkt tot normaal gebruik.
Gebruikershandleiding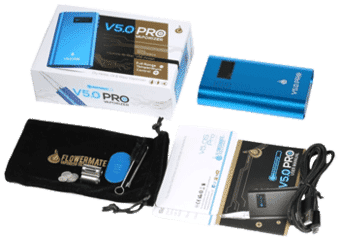 Inhoud
Flowermate V5.0S Pro V2 vaporizer
Glazen mondstuk
USB snellaadkabel
Kruiden capsule
Concentraten capsule
Schoonmaakgereedschap
Vulgereedschap
Roestvrij stalen gaasjes (5)
Instructiegids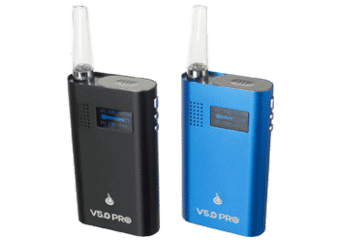 Specificaties
Meer informatie

| | |
| --- | --- |
| Formaat: | 6.3 × 1.9 × 10.1 cm |
| Gewicht: | 140 g |
| Hittemethode: | Geleiding |
| Opwarmtijd: | 30 seconden |
| Energiebron: | Batterij (2 x 2600 mAh) |
| Temperatuur: | 40°C tot 230°C |
| Fabrikant: | Flowermate |
| Garantie: | 2 jaar |
| Land van productie: | China |
Flowermate Aura

Penvormig en discreet
2 uur batterijduur
Zeer makkelijk in gebruik

Flowermate Stylo

Grote ovenkamer (0.5 g)
3000 mAh batterij
Groot temperatuurbereik (150°C tot 230°C)

Flowermate V5 Nano

Digitale controle over de temperatuur tot 230°C
2500 mAh vervangbare batterij
OLED scherm en vibratie opties
Schrijf je eigen review over Flowermate V5.0S Pro V2