Kenmerken
Nieuwste versie (2023.11)
Meerkleurig OLED display
Groot ovenformaat (0,5 g)
Magnetisch mondstuk
Groot temperatuurbereik (150°C tot 230°C)
3000 mAh batterij
Opladen via USB-C
Duurzame materialen
Comfortabel
De Flowermate Stylo heeft een design dat perfect in de hand ligt voor maximaal comfort, ideaal voor zowel thuis als onderweg. Hij is bovendien gemaakt van duurzame materialen, wat betekent dat je jarenlang kunt genieten van een hoogwaardig en stijlvol apparaat.
Aanpasbaar
Of je nu een beginner bent of een dagelijkse damper bent, je zult het gebruiksgemak van de Flowermate Stylo zeker kunnen waarderen. Het magnetische mondstuk is gemakkelijk te bevestigen en los te maken, en het kleurrijke OLED display laat duidelijk zien wat de status van het apparaat is.
De ruime kruidenkamer, die tot 0,5 g droge kruiden kan bevatten, is geweldig voor langere sessies. Je kunt kiezen uit een temperatuurbereik van 150° tot een indrukwekkende 230°C, afhankelijk van je kruiden.
Voor het geval je vergeet de Stylo uit te zetten, schakelt de safe session modus het apparaat automatisch uit als de sessie timer afloopt. Je kunt kiezen tussen 180 en 360 seconden sessietijd.
Gebruiksvriendelijk
Met de Flowermate Stylo hoef je je geen zorgen te maken dat je tijdens je dampsessie voor een onaangename verrassing komt te staan, want hij is uitgerust met een robuuste 3000 mAh batterij. Geniet van maximaal 8 sessies zonder dat je hem hoeft op te laden!
Wanneer het tijd is om op te laden, kan dat snel en gemakkelijk met de USB-C oplader van de Stylo. Het opladen van de batterij van nul tot helemaal vol duurt ongeveer 2 tot 2,5 uur.
Hoe gebruik je de Flowermate Stylo
Verwijder het mondstuk en doe tot 0,5 g gemalen droge kruiden in de ovenkamer.
Doe het mondstuk er weer op.
Klik snel 5 keer op de aan-uitknop om het apparaat aan te zetten.
Gebruik de pijltjestoetsen om de temperatuur in te stellen tussen 150°C-230°C.
Klik 3 keer snel op de aan-uitknop en stel de sessietijd in met de pijltjes. (Kies tussen 180-360 seconden.)
Druk 2 seconden op de aan-uitknop om de verhitting te starten. Wacht tot het apparaat begint te trillen om aan te geven dat de ingestelde temperatuur bereikt is.
Tijdens het verhitten kun je de temperatuur aanpassen door op de pijltjestoetsen te drukken en te bevestigen met de aan-uitknop.
Druk 2 seconden op de aan-uitknop om opnieuw te beginnen met verwarmen, of houd deze knop ingedrukt om het menu te openen.
Klik 5 keer snel op de aan-uitknop om uit te schakelen.
Garantie
Alle Flowermate Stylo vaporizers die verkocht worden via MagicVaporizers, een geautoriseerde dealer van Flowermate (by Smiss), zijn volledig authentiek en hebben 2 jaar garantie op het apparaat en 1 jaar garantie op de batterij.
Gebruikershandleiding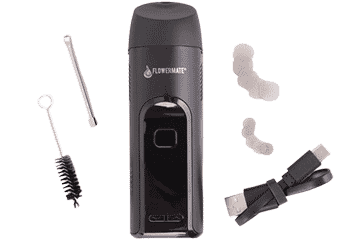 Inhoud
Flowermate Stylo vaporizer
Roerstaafje
Schoonmaakborsteltje
Mondstuk gaasjes (5)
Oven gaasjes (5)
USB-C oplaadkabel
Gebruiksaanwijzing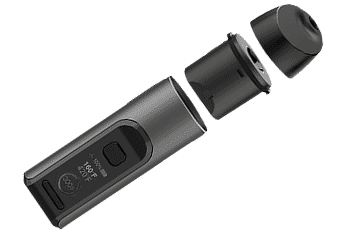 Specificaties
Meer informatie

| | |
| --- | --- |
| Formaat: | 5.0 × 2.3 × 12.8 cm |
| Gewicht: | 155 g |
| Hittemethode: | Hybride (Convectie+Conductie) |
| Opwarmtijd: | 15 seconden |
| Energiebron: | Batterij (3000 mAh) |
| Temperatuur: | 150° tot 230°C |
| Fabrikant: | Flowermate |
| Garantie: | 2 jaar |
| Land van productie: | China |
Flowermate Aura

Penvormig en discreet
2 uur batterijduur
Zeer makkelijk in gebruik

Flowermate V5 Nano

Digitale controle over de temperatuur tot 230°C
2500 mAh vervangbare batterij
OLED scherm en vibratie opties
Schrijf je eigen review over Flowermate Stylo