Kenmerken
Nieuwste uitvoering! (2023.11)
Compact & draagbaar
Indrukwekkende batterijduur
Volledige controle over de temperatuur
60-seconden opwarmtijd
Voor Wie is de Arizer ArGo?
De Arizer ArGo is ideaal voor mensen die een vape zoeken van hoge kwaliteit om mee te nemen tijdens hun avonturen. Hij is draagbaar en geschikt om mee te nemen in middelgrote zakken, wat inhoud dat deze vape een perfecte balans is tussen het lichte gewicht en gebruiksgemak. Combinaar dit met een digitale knop voor de temperatuur en je merkt al snel de kwaliteiten van de vaporizer. Ook is er een batterij aanwezig die lang mee gaat en smaakt de damp opvallend goed.
Compact & Draagbaar
Met een formaat van slechts 5 x 2,5 x 9 cm is de Arizer ArGo makkelijk om mee te nemen en perfect om onderweg te gebruiken. Deze vape kan comfortabel in de palm van je hand worden bewaard en makkelijk worden verborgen. De oprolbare bovenzijde houd alles op zijn plek om het meenemen makkelijk te maken wanneer de vape niet in gebruik is. Ook kan je hierdoor de kruiden makkelijk voorbereiden. Wanneer je een vape zoekt die makkelijk is om mee te nemen, maar nog altijd intense dampwolken kan produceren, dan zal de Arizer ArGo in je behoeften voorzien.
Makkelijk in Gebruik
De Arizer ArGo is een zeer goede keuze voor beginners met weinig vape ervaring, omdat het een enorm gebruiksvriendelijk apparaat is. Je kunt de batterij vervangen en zelfs dit apparaat gebruiken tijdens het laden, dus je hoeft jezelf nooit zorgen te maken over het vroegtijdig eindigen van een sessie! Ook is de besturing simpel en zal het regelen van de temperatuur makkelijk zijn. Je kunt de instellingen zonder al te veel gedoe tijdens je sessie wijzigen naar eigen inzicht.
Geweldige Smaak
Het innovatieve roestvrij stalen luchtpad en de hybride verhitting zorgen ervoor dat de smaak van je kruiden altijd optimaal zal zijn. De ArGo zal indrukwekkende damp produceren tijdens elke sessie. De efficiëntie zal garanderen dat je altijd de kruiden in hun volledigheid kunt verdampen.
Verhit in Slechts 60 Seconden
Arizer ArGo is in staat om een behoorlijke temperatuur te bereiken in slechts 60 seconden en zal de maximale temperatuur van 220°C in slechts 90 seconden behalen, wat inhoud dat je nooit lang hoeft te wachten tot de vape is opgewarmd. Een ontspannende sessie beginnen zodra je hier behoefte aan hebt is makkelijk met de Arizer ArGo.
Vervangbare Batterij 
De meegeleverde 18650 type 3000 mAh batterij kan een indrukwekkende 75 minuten vapen garanderen, maar soms wil je een nog langere sessie. Gelukkig kan je simpelweg de batterij vervangen als deze leeg is, waardoor je de limitaties van de batterij eigenlijk amper merkt. Zolang je maar één of meer reservebatterijen mee neemt.
Sterker nog, de Arizer ArGo heeft een innovatieve automatische timer die de vape af zal sluiten wanneer inactiviteit wordt opgemerkt voor een langere periode. Hierdoor wordt essentiële batterijduur bespaard, bijvoorbeeld wanneer je afgeleid raakt of in slaap valt.
Garantie
De ArGo heeft een levenslange garantie op het hitteblok en een gelimiteerde 2-jarige garantie op defecten met betrekking tot materialen of arbeid, exclusief de batterij.
Gebruikershandleiding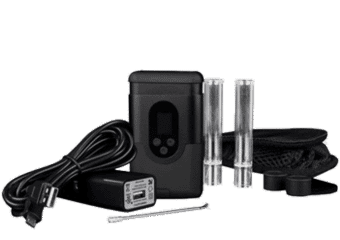 Inhoud
Arizer ArGo vaporizer
Batterij
Oplader
Hoes
Roergereedschap
Glazen buizen (2)
Siliconen buizenbeschermer (2)
PVC buizen met beschermer (2)
Gaasjes (4)
Instructiegids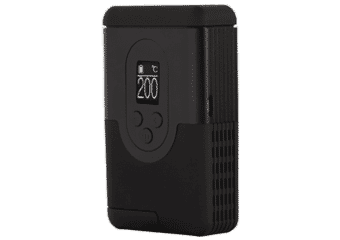 Specificaties
Meer informatie

| | |
| --- | --- |
| Formaat: | 5.2 × 2.4 × 9.3 cm |
| Gewicht: | 97 g |
| Hittemethode: | Hybride (Convectie+Conductie) |
| Opwarmtijd: | 60 seconden |
| Energiebron: | Batterij (3000 mAh) |
| Temperatuur: | 50°C tot 220°C |
| Fabrikant: | Arizer |
| Garantie: | 2 jaar+ |
| Land van productie: | Canada |
Schrijf je eigen review over Arizer ArGo