Kenmerken
Nieuwste uitvoering! (2023.11)
Kan met ballon en slang worden gebruikt
Exacte temperatuur
Compact maar veelzijdig ontwerp
Verander instellingen met de afstandsbediening
Digitaal LED scherm
Aanpasbare timer voor automatisch afsluiten
Voor Wie is de Arizer Extreme Q?
De Arizer Extreme Q levert onverslaanbare kwaliteit en is perfect voor mensen die op zoek zijn naar een vaporizer in het topsegment, welke simpel in gebruik is en gebruik maakt van unieke functies. Het is ideaal voor zowel ervaren vapers als beginners, omdat het veel functies aanbied zonder in te leveren op snelle en geweldige resultaten. Als één van de best verkopende stationaire vaporizers op de wereld is het niet moeilijk te begrijpen waarom de Arizer Extreme Q zo'n positieve reputatie heeft.
Premium Kwaliteit
De glazen structuur van deze vaporizer zal verzekeren dat alle damp die geproduceerd wordt 100% vrij is van schadelijke stoffen en altijd geweldig zal smaken. De topkwaliteit keramische verhitting zal moeiteloos alle typen kruiden verdampen en zal je altijd de maximale voordelen geven van de materialen die je wil vapen.
De hittesystemen aan de binnenkant, maar ook de sensoren, geven het apparaat de kracht die het nodig heeft om in 2 minuten de optimale temperatuur te vinden. Hierdoor kan je vrijwel direct aan de slag met je sessie.
Veelzijdig
Misschien het grootste voordeel van de Arizer Extreme Q is de mogelijkheid om te vapen met een slang of ballon. Je kunt ook genieten van de automatische snelheden, ingebouwde regulering van de temperatuur en het handige LED scherm die je volledige controle geeft over de functionaliteit. De instellingen kunnen worden versteld met de knoppen aan de onderkant, maar er is ook een afstandsbediening waardoor je het systeem vast kunt opstarten wanneer je niet eens in de kamer bent. De flexibiliteit en het gebruiksgemak van de Arizer Extreme Q laat zien waarom het daadwerkelijk een geweldige vape is.
Sterker nog, wanneer je op zoek bent naar meer spirituele functionaliteit kan je deze vaporizer ook gebruiken voor aromatherapie. Maak gebruik van de aromatherapie kom als olieverdamper om een ontspannen atmosfeer te creëren in de ruimte.
Optimale Veiligheid & Gebruiksgemak
Als je bijna in slaap valt, hoef je helemaal jezelf niet meer wakker te schudden om de vaporizer af te sluiten. Arizer Extreme Q zal namelijk zichzelf direct afsluiten wanneer de tijd op is en er geen activiteit meer is. De innovatieve automatische afsluitfunctie kan worden ingesteld op 2 of 4 uur. Handiger nog is de meegeleverde afstandsbediening, waarmee je de vape ervaring volledig kunt aanpassen naar eigen wens zonder ook maar uit je luie stoel te komen.
Constante Upgrades
Vergeleken met het moment dat deze vaporizer voor het eerst op de markt kwam, is de Arizer Extreme Q veel geavanceerder dankzij alle upgrades en verbeteringen. Het geperfectioneerde premium ontwerp, de structuur en de onderdelen om elke keer weer perfecte damp te produceren dragen hier flink aan bij. Je kunt er hierdoor zeker van zijn dat je de best mogelijke kwaliteit krijgt wanneer je deze vaporizer bestelt.
Garantie
De elektronica van de Arizer Extreme Q wordt verzekerd door een 3-jarige garantie, terwijl het keramische hitteblok geleverd wordt met een levenslange garantie.
Gebruikershandleiding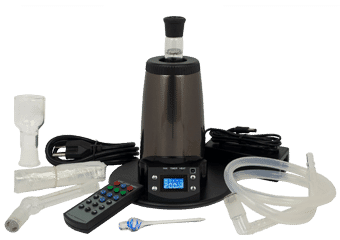 Inhoud
Arizer Extreme Q vaporizer
Afstandsbediening
Siliconen slang (90 cm)
Mini-slang
Glazen roergereedschap
Gaasjes
Aromatherapie kom
"Cyclone" glazen kommen (2)
Ballonen met mondstuk (2)
Mondstukken (2)
Stroomkabel
Instructiegids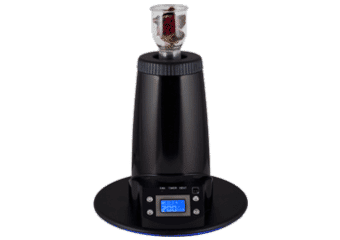 Specificaties
Meer informatie

| | |
| --- | --- |
| Formaat: | 15.2 × 15.2 × 19 cm |
| Gewicht: | 370 g |
| Hittemethode: | Convectie |
| Opwarmtijd: | 3 minuten |
| Energiebron: | Stroom |
| Temperatuur: | 50°C tot 260°C |
| Fabrikant: | Arizer |
| Garantie: | 3 jaar |
| Land van productie: | Canada |
Schrijf je eigen review over Arizer Extreme Q