DynaVap M+ (Plus) Kenmerken
Nieuwste versie (2023.11)
Nieuw design
Volledige extractie bij 1x verhitten
Grotere ovencapaciteit
Geschikt voor microdoseringen
Handmatige verhitting
Voor wie is de DynaVap M+?
De DynaVap M+ is bedoeld voor zowel beginners als ervaren gebruikers die de nieuwste ontwikkelingen op het gebied van handmatig verhitte vaporizers willen. Het innovatieve design zorgt voor efficiëntere en smaakvollere verdamping en minder gedoe. De ideale keuze voor iedereen die de volledige controle over zijn dampsessies wil hebben.
Nieuw design, betere prestaties
Het nieuwe design geeft de DynaVap M+ meer massa aan de basis voor betere warmteabsorptie en -retentie. Het resultaat is een vollediger extractie.
Verhit de Captive Cap voor de vertrouwde ervaring, of volg de tip van DynaVap en verhit de basis voor een intense, diepe extractie. Open de luchtopening aan de zijkant en ervaar een DynaVap-sessie als nooit tevoren.
Volledige extractie bij 1 x verhitten
De top van de DynaVap M+ is thermisch geoptimaliseerd voor volledige extractie met slechts één keer verhitten. Deze eigenschap onderscheidt de M+ van andere DynaVap modellen en zorgt voor een unieke, efficiënte dampervaring.
Grotere ovencapaciteit
Je kunt nu meer kruiden in één keer consumeren met de DynaVap M+, want hij heeft een ovenkamer die 12% groter is dan eerdere M-modellen, voor nog krachtiger sessies.
Stijlvolle design updates
De DynaVap M+ heeft een vierkante luchtpoort en een strakke, gewaagde afwerking, die er zowel visueel aantrekkelijk uitziet als comfortabel in de hand ligt.
Alles in eigen hand
Om de DynaVap M+ te verhitten raden we een gasbrander aan, omdat je daarmee de verhitting volledig zelf in de hand hebt. Richt de aansteker op de M+ afhankelijk van hoe je wilt verdampen en luister dan naar de 'klik' die aangeeft wanneer het de optimale tijd is om te inhaleren.
Geschikt voor microdosering
Met de DynaVap M+ kun je eenvoudig de grootte van de oven halveren (van 0,1 g naar 0,05 g) voor kleinere ladingen. Simpelweg door de tip te verwijderen en het gaasje in de volgende gleuf te zetten.
Krachtige en smaakvolle damp
Of je nu de voorkeur geeft aan lichte, smakelijke damp of dikke, volle wolken, de M+ kan het allemaal. Verhit dicht bij de top voor een delicate smaak of dichter bij de onderkant voor krachtige, volle extracties.
Verbeterd o-ring design
De DynaVap M+ punt is voorzien van twee siliconen O-ringen in plaats van drie, en geen enkele is zichtbaar wanneer de tip is geïnstalleerd. Deze update vermindert het metaal-op-metaal contact en maakt het geheel nog duurzamer.
Upgrade naar inductieverhitting
Als je DynaVap graag gebruikt, maar liever geen gasbrander, dan raden we je een inductieverhitter aan zoals de Ispire Wand. Uiteraard wat minder handzaam als een aansteker, maar de inductieverhitting zorgt voor een ongeëvenaard gemak en consistentie in smaak. Gewoon je vape erin steken en het apparaat doet de rest.
Garantie
Alle DynaVap M+ vaporizers die verkocht worden via MagicVaporizers, een erkende dealer van DynaVap producten, zijn 100% authentiek en hebben een garantie van 2 jaar, beperkt tot normaal gebruik.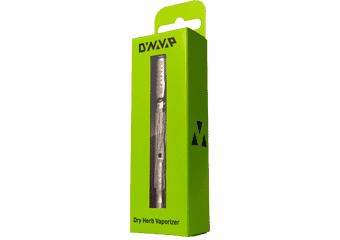 Inhoud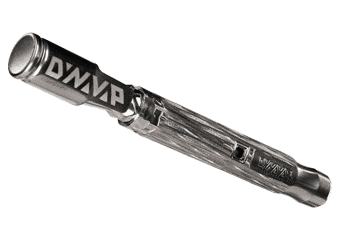 Specificaties
Meer informatie

| | |
| --- | --- |
| Formaat: | 1.0 × 1.0 × 8.9 cm |
| Gewicht: | 21 g |
| Hittemethode: | Hybride (Convectie+Conductie) |
| Opwarmtijd: | 12 seconden |
| Energiebron: | Aansteker of Inductie |
| Temperatuur: | 150°C tot 230°C |
| Fabrikant: | DynaVap |
| Garantie: | 2 jaar |
| Land van productie: | USA |
DynaVap M

Handmatige verwarming
Klein en discreet
Gemaakt in de VS

DynaVap Omni

Handmatige Opgewarmd
Aanpasbare kom en luchtstroom
Gemaakt van titanium
Schrijf je eigen review over DynaVap M+ (Plus)